I am one of 16 million people who follow Pope Francis on Twitter. Every day I find spiritual insight in his brief tweets. I recommend him if you're searching for a positive and joyful message.
On December 23, there was this message: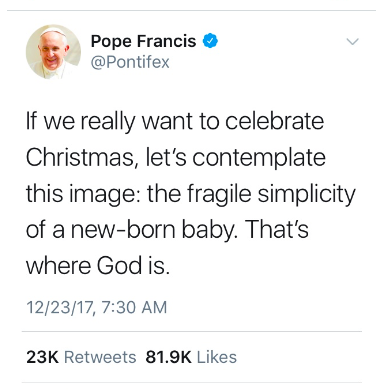 On Christmas Eve, I was fortunate to participate in services at my boyhood church, First Presbyterian Church of Virginia Beach. That was followed by Catholic Mass later in the day at St. Gregory the Great. What thoughtful and uplifting messages we received about innocence and humility. I felt a burning in my heart that lasted throughout the day.
For many Americans, there is much that frustrates us today and creates such a dead-weight of anxiety. That's why it's such a privilege to read and reflect on these simple words from the Pope. With all the distractions in our world, let us never forget this perfect image of fragile simplicity.