Back in the summer, we were asked by our great friends at Meritus Signature Homes to come up with some ideas for clever, affordable and unexpected gifts for valued customers and real estate professionals.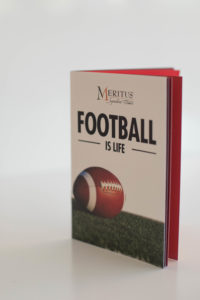 To know Jeff Viney and his amazing team at Meritus is to feel the orange glow of Clemson football at full intensity. Jeff spends most of each Friday before home games planning the menu and prepping his extensive tailgate set-up. By mid-morning, the Low Country Boil is simmering and College Gameday is live on the big screen. I think it's the essence of the Clemson experience!
So one idea we proposed was a tiny booklet of great sayings from college football coaches. The idea clicked and we went to work to find the best quotes from some of America's most successful coaches (plus Will Muschamp). A couple of my favorites: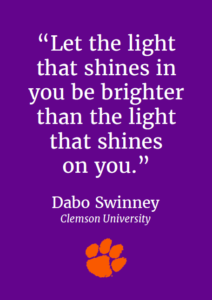 "Attack each day with an enthusiasm unknown to mankind." – Jim Harbaugh
"You don't get the culture you want. You get the culture you build." – Urban Meyer
"Little things make the difference. Everyone is well prepared for the big things, but only the winners perfect the little things." – Bear Bryant
Our Gary Upham, passionate Michigan fan that he is, put the booklet together and suggested we make it small enough to fit in a back pocket. What a great idea! I think part of the appeal of the booklet is the handy size. Great feedback from Jeff and his team.
"Everyone loves a winner." – Mike Harrison