Last week one of our oldest and most sustaining client relationships ended. I saw it coming months ago. Our key contact had been dismissed in the summer, and no one had been specifically assigned as our go-to person.
We worked to forge deeper relationships with a half-dozen managers, availing ourselves to every opportunity to be of service. Initially there was traction, but eventually we had the feeling that our work was going unnoticed.
It was a big ugly loss.
Not unlike what happened at Memorial Stadium, Clemson, SC, on November 12. The Tigers came into the game against Pittsburg as a 21-point favorite win and go to 10-0. But three Clemson interceptions and over 100 yards in penalties kept Pitt in the game, until the Panthers kicked a field goal in the final seconds to win the game, 43-42.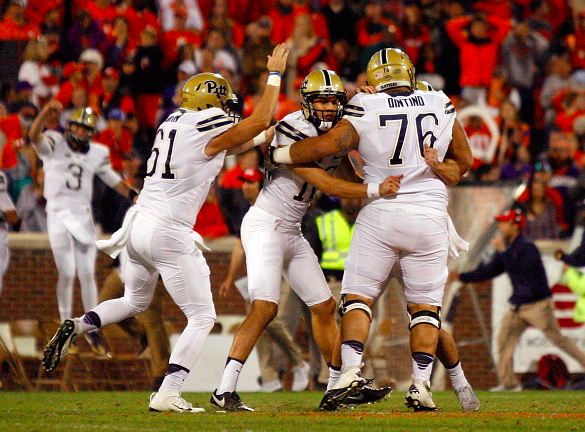 Throughout the season, Clemson had survived game after game with narrow wins against inferior opponents. Asked to explain the loss to Pitt, Coach Swinney said, "Prosperity is a terrible teacher."
He went on to say this: "Sometimes you need a little pain along the way, and a little failure is part of getting better. We're disappointed, but eager and ready to get back to work and challenge each other. At the end of the day it's how you respond…. That's what determines the outcome to anything."
Losses happen to every organization, sports or business.
Some you help to create; others happen despite your best efforts. How you come back from a loss is what defines you.
Most experts feel the Tigers would have never won the National Championship without the reality check against Pitt – and the commitment to be ALL IN for the remainder of the season.
For SHIFT, the loss has brought about a sense of urgency and a renewed focus on making an impact for each client. We learned a valuable lesson about relationship building: There are no shortcuts in the process of mattering to each of our clients; periodically, you have to get face-to-face with the person who makes the final decisions.
A 10-Point Checklist.
Beyond that advice, here are ten suggestions for any business experiencing the pain of a loss.
1. Take responsibility for a loss. Don't blame your client or a competitor. Acknowledge the good that came from the relationship.
2. Re-examine your vision and mission statements. Are you working to your full potential?
3. Look at the people on your bus. Do you have the right people in the right seats?
4. Tighten up internal processes.
5. Realize that nothing lasts forever. You have to be marketing, networking and presenting your business all the time. Are your marketing tools sharp enough to cut through the ceaseless noise that's out there?
6. Examine your core strengths. What do you do better than anyone else? How strong is your value proposition?
7. Think about the challenges those within your target market segments are facing. Can you offer a better solution?
8. Start. Even the smallest steps, taken every day without fail, are better than forever processing your circumstances … but doing nothing. Done is better than perfect.
9. Don't go it alone. You need your team behind you 100%. You need your supporters to have your back.
10. Embrace the challenge; enjoy the moment. Find that perfect blend of intensity and relaxation. Believe in yourself and your team. You will persevere.

"It's either a stepping stone or a stumbling block." – Dabo Swinney